Let WGE, Inc. help you harness the power of today's information resources!
W. Gozdz Enterprises, Inc.
3880 North Highway A1A, Suite 1203
Fort Pierce, Florida 34949
Tel: (954) 452-9651
Fax: (954) 370-8550
E-Mail: wgozdz@wgozdz.com
W. Gozdz Enterprises, Inc.
A Global Information Management,
Consulting & Training Services Company
---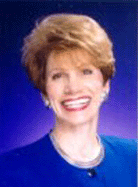 Wanda E. Gozdz is president and owner of W. Gozdz Enterprises, Inc. She and her staff provide a wide range of services designed to assist people in managing print and electronic information and communications resources.
Ms. Gozdz possesses an undergraduate degree from Felician College where she majored in Elementary Education and Science. She completed her graduate studies in Library Sciences at the University of South Florida. An expert in the fields of information technologies, entrepreneurship, conflict resolution, librarianship and image-building, Ms. Gozdz frequently writes and speaks to professionals and students throughout the world. She especially enjoys mentoring women and children, believing that they are the business leaders of the future.
The recipient of numerous awards and certificates of recognition, Ms. Gozdz is especially proud of those received from Nova Southeastern University, Chapman University and the University of South Florida for her work in the areas of employee training and development, transitions into changing environments, and resolving conflict in the workplace.
In 1998, she received the National Association of Women Business Owners' coveted Triple Teal Heart Award for her outstanding contribution in technology on the international, national, state and local organizations.
A two-time delegate to the White House Conference on Small Business and founding member of the Small Business Technology Coalition, Ms. Gozdz frequently travels to our Nation's and State's capitols to lobby for issues affecting Small Business and women-owned businesses. Her many achievements won her the Republican Women Leaders' 1999 Small Business Woman of the Year Award and the National Association of Women Business Owners' 1999 National Public Policy Advocate of the Year Award.